9/22/2017 UPDATE:  Everything is moving along.  We are planning to be open on Monday, 10/2nd!
9/12/2017 UPDATE:  Hooray!  We have contractors starting today to do our restoration.  Please be patient with us while this is going on.  Our hopes are to open between 9/30 – 10/15th.  If you have furniture items you would like to consign with us, please send photos to info@riverbridgeresale.com for pre-approval.  We will be reopening with limited space, so we will need to be extra-picky about what we are accepting.  Please understand that we cannot accept any items until the store is open.
CONSIGNOR CHECKS:  We will do our best to have someone at the store for consignor check pickup between 11-1 from 9/12 – 9/15th.  If you cannot make it by during those times, please email me and we will make special arrangements to get you your check.
9/8/2017 UPDATE:  We have a make-shift office set up in the store now with a working phone line, internet, and computer.   Please be patient as we begin trying to respond to your voice mails and emails as to the status of your items.  We have many things to sort thru and it is organized-chaos, as I am sure you can understand.  CONSIGNOR CHECKS WILL BE READY ON MONDAY, 9/11TH AND AVAILABLE FOR PICKUP THAT DAY AND THEREAFTER.   Our goal is to reopen a partial store by 9/30th.  I will keep you posted if that date changes.  Thank you all for your help, love, understanding and support through this difficult time.
9/2/2017 UPDATE:  WHEW!!  I THINK WE'RE GONNA MAKE IT!  TODAY (SATURDAY) IS THE LAST DAY OF OUR OUTDOOR FLOOD SALE FOR DAMAGED MERCHANDISE. WE ARE GOING TO TAKE A BREAK ON SUNDAY-TUESDAY, AS OUR MANY VOLUNTEERS AND STAFF NEED SOME TIME TO RECOVER AND TO ALLOW THE SERVPRO STAFF TIME TO TEAR OUT THE WALLS.  I KNOW I HAD ORIGINALLY SAID CUSTOMERS AND CONSIGNORS COULD COME BACK IN ON MONDAY, BUT FOR EVERYONE'S SAFETY WE WILL NEED TO WAIT A FEW MORE DAYS.  PLEASE BE PATIENT WITH US AS THIS IS QUITE THE PROCESS.
VOLUNTEERS:  Danny and I are overwhelmed with gratitude for the many WONDERFUL PEOPLE OF OUR COMMUNITY who have given their time, muscle, sweat, tears, prayers, food for workers, and support during this very difficult time.  Many of you have asked what you can do to help.  Furniture cleanup will be a long and tedious process.  We could certainly use a few hands there starting on Tuesday.   Please email us if you would like to sign up to volunteer.  We love you all and thank God for you every day!!!!
8/30/2017:  RIVERBRIDGE IS CURRENTLY CLOSED DUE TO A FLOOD LOSS.  OUR STORE TOOK IN APPROXIMATELY 4 FOOT OF WATER.  PLEASE BE PATIENT WITH US AS WE WORK HARD TO GET OUR STORE BACK UP AND RUNNING WITHIN THE NEXT FEW WEEKS.
We did get our electricity turned back on yesterday and are doing the final muck-out of the building.  We are also culling the furniture that survived the flood.  All pieces that are damaged are going outside to the front of the store.  All the pieces that we feel survived the flood are being staged in a designated area of the store and will be cleaned up over the next weeks.  I was able to remove my computer system in time so I have all my data!  Grateful for that!
WE ARE HAVING A FLOOD SALE AND PEOPLE ARE FLOCKING BY TO GRAB SOME BARGAINS!  Our goal is to get enough to cover my consignor's % if we can.    If you are a consignor please email us at info@riverbridgeresale.com to check on the status of your items.  Please give us a day or two to respond. We are not allowing customers or consignors into the store until Wednesday, 9/6.
Please pray for us.  We need your prayers and support.  If you would like to volunteer to help please email me at info@riverbridgeresale.com.
Kay George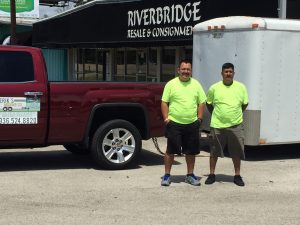 We offer affordable, reliable and professional pickup and delivery service through Erik's Moving Company. Call us for a quote, and we can coordinate the pickup and delivery.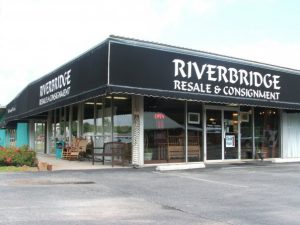 Selecting Riverbridge is a wise choice.  It is here at Riverbridge Resale & Consignment where we offer fine, high-quality resale furniture and accessories in a variety of styles, colors and designs; all at great prices! Our spacious showroom of over 10,000 square feet is filled with an abundant selection of furniture and decorative accents.
The moment you step into our store, you'll experience friendly smiles and an inviting atmosphere.  We invite you to relax and allow yourself to bask in the pleasant aroma of our fragrant oil lamps and delightful surroundings, as you browse our extensive selection of merchandise.
Whether you're downsizing, moving, redecorating, renovating or relocating, Riverbridge Resale & Consignment is a wonderful alternative to the traditional sales of used furniture and decorative household items. Here there are no boring classified ads or cluttered garage sales to probe through for what you're looking for, at Riverbridge you can take your time to shop, knowing we will be open to conveniently serve you.
Our friendly and knowledgeable staff will be happy to assist you. Reputation is everything to us! We operate our store with honesty and integrity so that consigners and customers alike have a pleasant and trusting experience.  Our customers are the pride of our business and with us, you're family.

We are excited to offer effusion lamps, fragrance oils, and the full line of furniture care products from Howards!  And, we now offer a full line of MudPaint!
    
Open Monday – Friday  10:00 AM – 6:00PM, Saturday 10:00AM – 5:00PM
We offer pickup and delivery service at a reasonable fee!